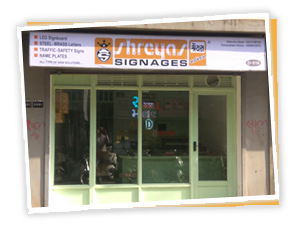 Shreyas Signages, a pioneer company in the business of Number plates / License plates came into existence in 1975. The salient feature of the company is that it manufactures License plates on the unit produced by UTSCH company, Germany.
The company's previous version, namely, 'SHREYAS AUTO TRADERS' was a partnership firm which exclusively dealt with the making of Number plates and metal letters since 1975. It was renamed as 'SHREYAS SIGNAGES' which has been functioning at the same place since 2006.

The Firm possesses its own fabrication, Tool Room, Spray painting & design dept. This ensures quality workmanship and perfectly timed delivery.

Our Motto is : "Quality Assurance tuned with Prompt Service"